If you're looking for a really delicious pancake recipe, you'll love these! They're amazing! The recipe is from Kristen's blog,
Change of Pace
. She does a fabulous job of sharing what the paleo lifestyle is all about. It's basically clean eating but a tad more strict. She has a ton of paleo-friendly recipes on her site, you can check them out
here
. The way the warm, fresh blueberries burst in your mouth when you're eating these pancakes is perfection. Enjoy!
In a small bowl, mash up 1/4 of a banana. Add 1 egg, 1 egg white, 1/4 cup of almond flour, 1/2 tsp of lemon juice, and 1/4 tsp of lemon zest. Mix well. Stir in 1/4 of fresh blueberries. Melt a teaspoon of coconut oil in a pan over medium heat. Pour in your pancake batter to make 3 small pancakes. Let cook for 4-5 minutes and then flip once the bottom is golden brown. Be careful not to flip them until they're ready. Let cook for a few more minutes on the other side.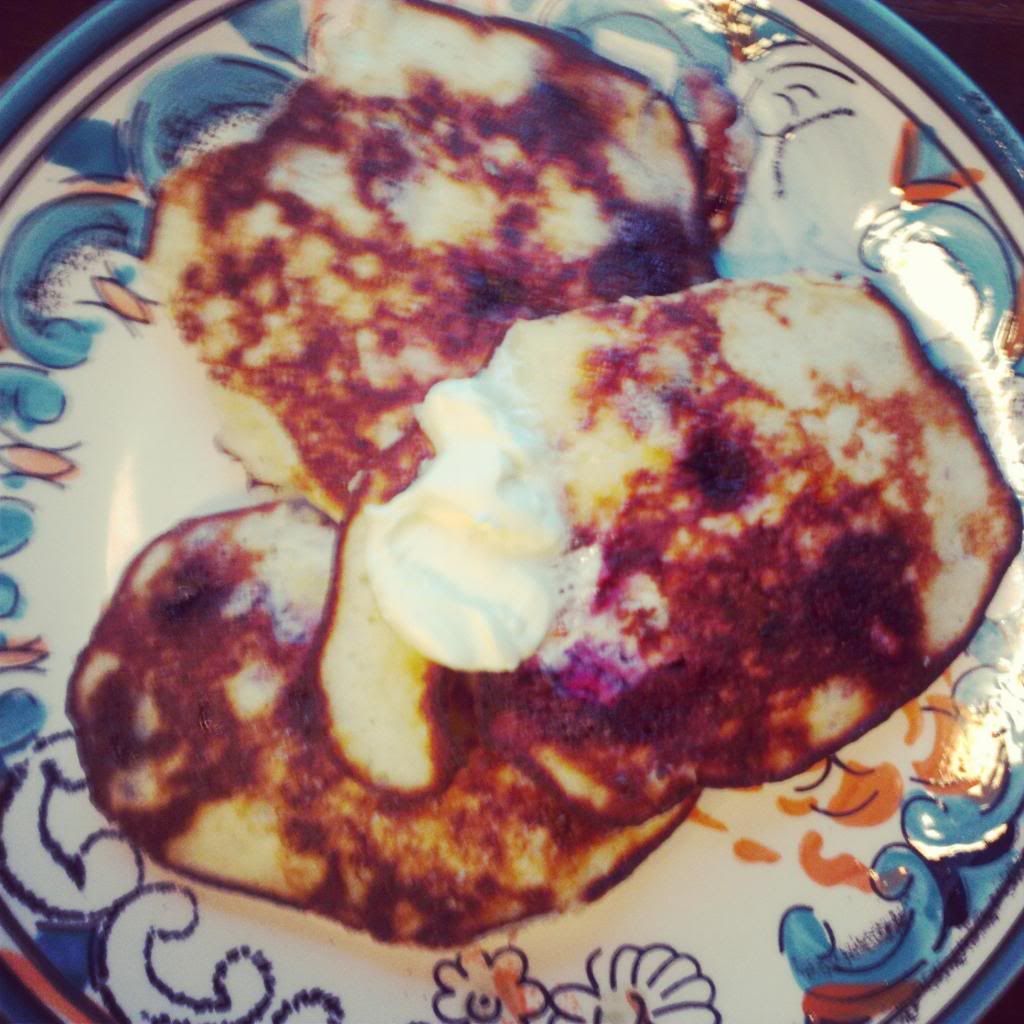 Top with butter and eat!


Blueberry Lemon Paleo Pancakes
Ingredients:
1/4 cup mashed banana
1 egg
1 egg white
1/4 cup almond flour
1/2 teaspoon lemon juice
1/4 teaspoon fresh lemon zest
1/4 cup fresh blueberries
Butter for the top*
Directions:
Make sure your banana is mashed really well in a bowl. Whisk in your egg, egg whites, almond flour, lemon juice, and lemon zest. Stir in your blueberries. Melt a teaspoon of coconut oil in a pan on medium-low heat. Pour in the pancake batter to form three small pancakes. I've tried several times to make one big pancake but those blueberries won't let me. It always falls apart. Let the pancakes cook for about five minutes on one side. You don't want to try to turn them too soon or they will fall apart. Low and slow is the key. You may have to peek and see if they are ready to flip. When they look golden brown flip them over and let the other side cook for about two minutes.

*Grass fed butter if you want it to be truly paleo.